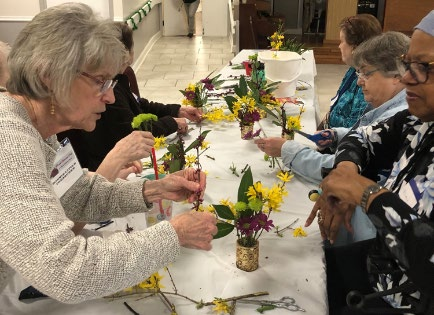 The Trowel Garden Club has been an Eastern Prince William County institution for 70 years and is the oldest gardening club in the area. The club seeks to support, educate, and beautify its community through environmentally sound gardening. From its inception, the group has been community-minded and has spearheaded several local service projects, including landscaping for Ann Ludwig School (a school for children with disabilities), supporting the Rippon Middle School Ecology Club, and raising monetary donations that helped preserve the Weems-Bots Museum. The club has garnered several awards and honors, including a citation for Outstanding Garden Club of the Year for the years 2016-2018.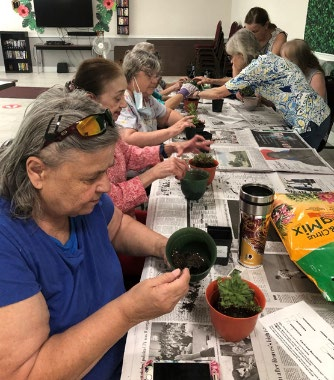 Here at Fellowship Square, the Trowel Garden Club has greatly impacted our community by providing garden therapy to Lake Ridge Fellowship House residents. When speaking with the club's president, Jo Ann Wiggins, her passion for gardening and giving back to the community is evident. She initially joined the club in 2017 to learn more about gardening and says that she "loved the intimacy and energy of the group." She has been an integral member of the club ever since then and was elected president of the club in 2021. As a retired psychologist, Jo Ann recognized the importance of garden therapy and wanted to bring sunshine and flowers to senior citizens who might not have access to them. She was put in touch with the president of the FSF board, and out of that collaboration, the program was born. Today, you can find Jo Ann and two club members teaching garden therapy once a month to Lake Ridge residents. Jo Ann has designed a curriculum that both educates and engages, and each month residents tackle hands-on gardening projects. This month, residents will be given seed pots and the choice of either marigolds, zinnias, or basil. They will watch the seeds germinate throughout the month and bloom throughout the year.
But the education that the club provides goes far beyond the classroom. Club members are heavily involved with residents and even help to nurture residents' plants. Jo Ann jokes that she's "not sure who enjoys this more, the residents or the members." The connection and impact the club has on the Lake Ridge community are evident. Resident Judy Omane is a garden therapy regular and speaks highly of the experience. She expresses how excited she is to be learning and her joy for gardening.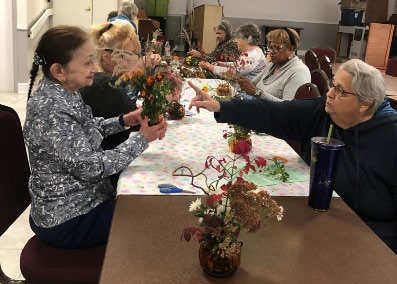 Gardening provides a wealth of both physical and mental health benefits for everyone. According to a 2017 study that was a part of the Preventive Medicine Report, gardening can have a significant positive impact on serious mental health problems, such as Alzheimer's disease and major depressive disorders. It is also a highly adaptable activity, meaning no matter your physical abilities, there are many inclusive ways to engage in the activity.
If you would like more information or to join the Club, please contact Jo Ann Wiggins at [email protected].