Resident Life Director
The Resident Life Director (RLD) manages the Service Coordinators (SC) at all Fellowship Square properties and builds strong relationships with building property management. The RLD spends half of their time at their main property working with the property management to promote an environment of community and trust with the residents. The RLD provides guidance and support to all SCs and ensures that a consistent model of service is implemented throughout each Fellowship Square property, and ensures that all SCs are adhering to the state and federal agency reporting requirements. The RLD is responsible for the continued oversight, leadership and enhancement of all SC-related responsibilities.
Service Coordinators
The Keys to Healthy Aging
At each Fellowship House, we have an onsite service coordinator who works with residents to navigate Medicare, Medicaid, and other benefits to which residents are entitled. The Service Coordinator (SC) serves as a linchpin between community resources and residents. The SC's job is to help motivate residents to maintain healthy, active lifestyles, to empower them to become more self-sufficient, and to maintain control of the decisions that affect them. The Service Coordinator is an integral part of the Fellowship Square team and not only works closely with the residents but gets to know the family members as well, keeping them informed and engaged in their loved ones' care.
Our focus on wellness – four key areas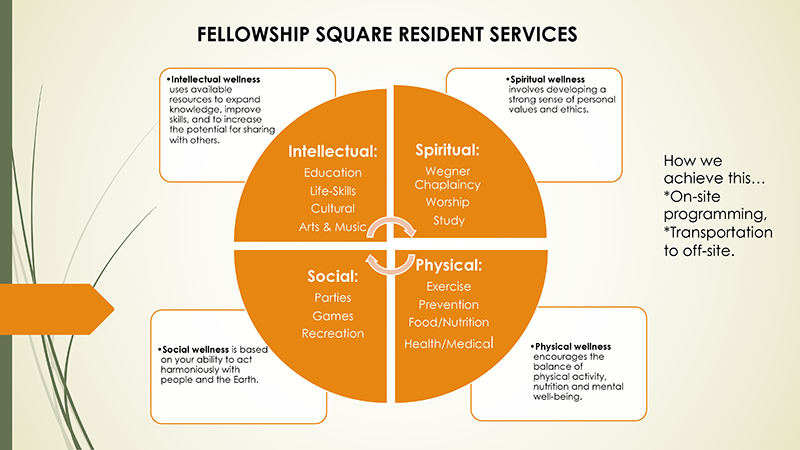 Services and Support offered include:
Securing SSI income
Reviewing Social Security benefits
Application for SNAP benefits
Review of Medicaid/Medicare benefits
Arranging for volunteer drivers to help residents get to/from doctors' appointments
Securing vision and dental coverage
Enrolling residents in the USDA Senior Brown Bag program and/or Meals on Wheels
Providing clothing vouchers for local thrift stores
Securing financial and legal resources
Scheduling monthly educational seminars such as estate planning/wills, healthy eating, and chronic disease management
Hosting DMV2GO which allows residents to update and renew drivers' license and tag renewals on-site
Scheduling the George Washington University Mammovan – free, onsite mammograms
Active and Engaged
Because engaged seniors lead richer, more satisfying lives, we maintain a robust calendar of activities designed to stimulate the four dimensions of wellness: physical, spiritual, intellectual,and social. Our goal is to provide opportunities for residents to participate in things they enjoy and discover new passions.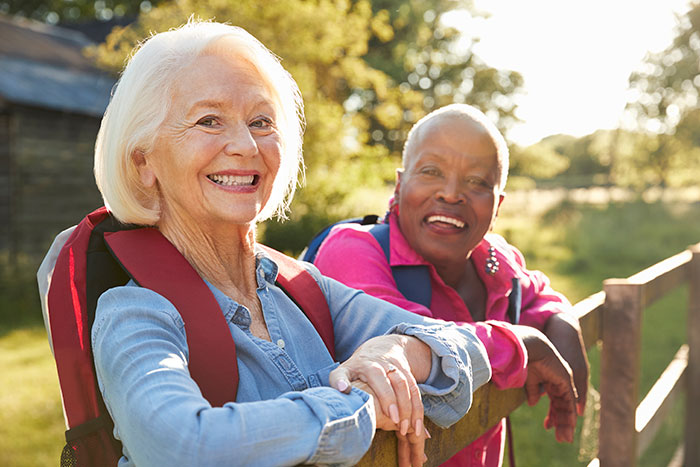 Activities
Exercise classes and Tai Chi
Bingo and Pokeno
Bible Study and Communion; transportation to local Church services
Outings to restaurants, shopping, and events
Walking Club and Craft Club activities
Social events like birthday parties and seasonal celebrations
Arts and crafts, like scrapbooking and crochet
Performing arts, such as singing and music
Fellowship Square prides itself on developing programs and services that prevent residents from feeling alone and isolated,and that connect them to services and amenities throughout the community.