Hunters Woods Fellowship House Renovation
Since opening its doors in 1979, the Hunters Woods Fellowship House has served hundreds of senior residents and provided a place for both community meetings and resident activities. In 2020, the Hunters Woods Fellowship House Board of Directors approved the refinancing and extensive renovations that ensured the property would continue to serve older adults well into the future.
The $26M renovation included major improvements to the systems and spaces that enhance resident life and foster social connections between residents, staff and volunteers. The refinancing enabled Fellowship Square to not only preserve and improve the Hunters Woods property, but to have access to funds to invest in future projects – including the potential addition of new, affordable housing properties in the years ahead.
Work began shortly after the new year in 2020, but due to the pandemic, a hold was put on the project in March. From the onset of COVID-19, the Board was clear that the residents' safety was the priority and there would be no compromises on that. Infectious disease specialists were consulted on safety protocols and information on implementing stringent sanitation practices was gathered. Finally, after much research and deliberation, Fellowship Square, the HW Board and Management were convinced that a limited scope of work could proceed safely in April.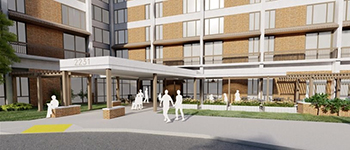 Working alongside HousingtoHome, our management team carefully orchestrated keeping residents safe when they had to be out of their homes every day, for up to three weeks at a time. The Dining Hall was converted into a "Relaxation Zone" and we relied heavily on the generosity of community partners and donors who provided meals, snacks, and supplies for daily activities. Field trips and other outings were also organized to provide additional options for residents who were not able to stay in their units during the day.
Very special dedications to Rev. Dr. John A. Scherzer and Dr. C. David Hartmann.
Fellowship Square named two of the newly renovated spaces at Hunters Woods Fellowship House after two individuals who contributed years of unwavering support and dedication to ensuring the welfare of older adults struggling to make ends meet would have a roof over their heads.
Major Improvements
*HVAC Units in Apartments
*New Apartment Bathrooms (12 redesigned to be fully accessible)
*Air Handling Units and Exhaust Vents for the Building
*New Heating/Cooling System with Remote Technology
*New Plumbing Lines throughout the Building
*New Basement Flooring and Tenant Storage Lockers
*Exterior Updates to include Patio, Trellis, Planters, and Seating
*Landscaping in Front and Back
*Outdoor Senior Fitness Stations
*New Entrance, Windows/Doors
*New A/V, Digital Displays, and Security Cameras
*Keyless Entry for Apartments and Building
*New Lobby Area that includes more Seating, and Computer Kiosks
*Large Social Hall that has Movable Walls for Small Group Activities
*New Theatre Room with Comfortable Furniture for Watching TV and Movies
*New Wellness Center
*New Fitness Center
*Upgrades to the Commercial Kitchen including a Demonstration Area
*New Flooring, Finishes, and Furniture throughout
---
Album of completed renovation of Hunters Woods Fellowship House
---
Lake Anne House Redevelopment
The two buildings that made up the Lake Anne Fellowship House, with affordable apartments for seniors, were constructed in the early 1970s. Forty-five years later, the buildings were in serious need of repair. It was deemed more cost effective to build an entirely new structure than to retrofit the existing buildings. Working with Grimm + Parker Architects, Charles P. Johnson & Associates, Orr Partners and Bozzuto Construction, Enterprise Community Development, and Fellowship Square took an innovative development approach and constructed the new building on an underutilized portion of the site, adjacent to the original Lake Anne Fellowship House.
The new Lake Anne House provides affordable housing for over 300 seniors aged 62 and older and offers 240 tax-credit affordable units with multiple subsidy programs. Residents pay anywhere between 30 and 60 percent of their annual income for rent, depending on the subsidy program they are affiliated with. Residents also receive support from donated funds through Fellowship Square, which jointly owns the new Lake Anne House with its partner Enterprise Community Development.
The building includes 56 studios, 178 one-bedroom and six two-bedroom apartments and is a dramatic upgrade from the prior Fellowship House. It is much more energy efficient, being both Earthcraft and Energy Star certified. The open lobby and spacious lounge, designed by Aumen Asner, are full of light and beautifully decorated in soft green, blue, and tans, to reflect the theme of Lake Anne. The carpet in front of the large TV has a tree-branch pattern that brings nature inside. The décor reflects ideas from the residents themselves, who were provided opportunities to express what they wanted the space to look like. There are comfortable seats, plenty of tables, and a kitchen area for hosting group events.
A range of amenities are incorporated — again, provided in consideration of residents' input — including an arts and crafts room; and a gym with treadmills, bicycles, and weights; a game room with ping-pong table and computers; an arts-and-crafts room; a social service office; a wellness center for visiting medical professionals; a sun room; and a social hall on the basement floor for large gatherings. One of the most valued amenities is the large outdoor plaza with tables, chairs arranged in conversation clusters, and rocking chairs. There is a sleek, modern fountain and raised garden beds where the residents can grow their own produce.
Each residential unit has a fully-equipped kitchen with GE stove, dishwasher, refrigerator, and microwave, as well as a pantry. The ceilings are high, and the units are open between the kitchen and living area. There is luxury vinyl tile throughout each apartment and tile flooring in the bathrooms. All tubs and showers have grab bars. Some units have walk-in closets, and most have Juliet balconies with sliding doors. The units have overhead lighting and are cable-ready. Each of the seven floors has a laundry room with brand new washer-dryers.
Lake Anne House has a convenient on-site parking lot and garage parking, as well as electrical vehicle charging stations. It offers a passenger bus service to take residents on scheduled daily trips to nearby stores, restaurants, and events. A full social calendar of activities and programs provides opportunities to get involved in the Reston community.
With all these luxury features, it is no wonder that Lake Anne House is extremely popular and highly valued by its residents.