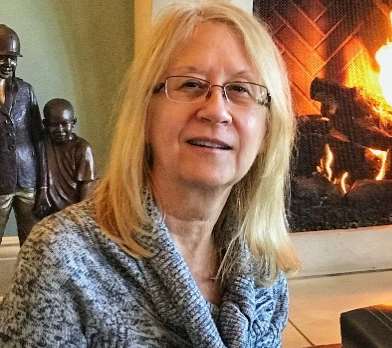 Gail Schlett has always had a passion for volunteer work. "I think the joy that I get back from engaging in these activities provides so much – I can't even describe the emotion, other than pure joy and happiness to me. I feel that by giving back to the senior citizens [and other organizations], I get so much more out of it than I give to them. That's what drives me, it really does."
A long-term volunteer for Fellowship Square, Gail was born and raised in New Jersey. She attended high school at Saint Mary's in Perth Amboy, later attended Middlesex County College and finally Rutgers University where she earned a BA in Accounting with a minor in Sociology. After completing her studies, Gail worked as an accountant for 15 years, then switched careers and worked at United Airlines as a reservation agent for the next 20 years. She has lived in Northern Virginia for 45 years and has volunteered for multiple organizations in the DC Metro area.
Though her church, Gail began to help with a Thanksgiving Day luncheon for seniors at Hunters Woods Fellowship House about twelve years ago. But over the years, more and more churches and synagogues got involved with this event, and more and more people wanted to participate, and it grew to where they had plenty of help. So Gail decided to switch gears and volunteer for a Mother's Day Tea instead – an event she helped host for the next seven years until the pandemic hit.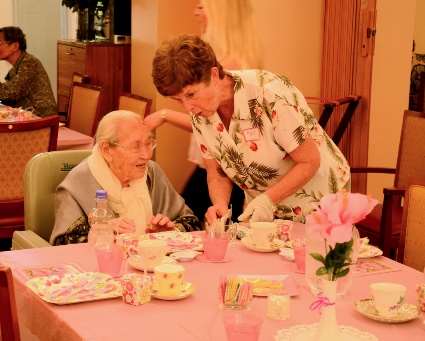 Her dedicated group of about 20 volunteers helps her set up decorations which follow an 'all-pink' theme. They assist with preparations, serve food and pour drinks; even Gail's husband joins in as a photographer by taking photos of the special day. On average, a whopping 60 residents will show up to participate. They eat, drink, and chat – and often enjoy entertainment! Whether it's a church choir member playing piano or a Spanish dancing exhibition, residents are always treated to a good time. Gail notes that it has become a tradition for everyone to drink from ceramic China teacups and that all the women receive a Mother's Day card at the end of the event.
Gail acknowledges this role isn't a 'one-woman job' and appreciates all the help she receives from the other volunteers. She also recognizes and values her church's involvement in the community, "Saint John Neumann in Reston and the Oblates of St. Francis de Sales, along with our outreach ministries, has been sponsoring events for over 20 years at Fellowship House in Reston and the credit is all theirs. I am just a small part of the tremendous effort of many people at our church."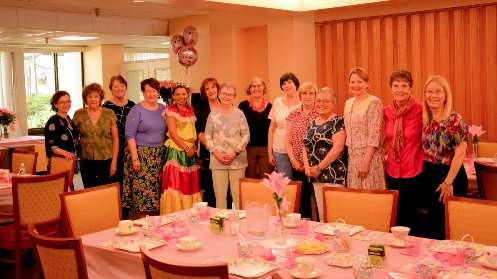 Gail also provides assistance to residents like Ama who had been confined to her bed for years. Gail would grocery shop for her, and sometimes visit her in her home. A few years before the pandemic, Gail invited her to tea, not expecting her to show up. But much to her surprise, Ama DID show up – dressed beautifully with jewelry and makeup. Gail was deeply moved that she'd inspired Ama to attend the social gathering, despite her mobility limitations.
Gail feels that her life's purpose is to help others feel important and appreciated, even through small actions, because they can make a big impact on someone's life. There is no greater feeling than seeing a smile on someone's face through the simple act of showing them you appreciate them.
By: Aleyna Akyuz, Student Volunteer