Lee Altman has just about done it all. An artist at heart, his talents range from composing to photography to storytelling to orchestrating to performing among many others. He jokes that he has the "curse of the artist", and that he's compelled to continually create and innovate.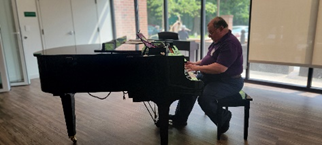 After going through the pandemic, he describes how he felt it was important to make a shift in the art he was creating. He felt that what the world needed now after a world catastrophe was music that soothed the soul. Being an active citizen, he started looking for places where he could play and share his gift of music. Lee had performed at Fellowship Square years ago with his synagogue's choir and was put in touch with Hunters Woods' service coordinator, Jane Kung. Together, Jane and Lee collaborated to create Tuesday Music Café.
Their vision for the Tuesday Music Café was not to create a concert series or sing-along, but instead for Lee's music to provide a calming backdrop for life at Hunters. Each week, Lee plays piano and occasionally harmonica while volunteers hand out pastries and residents sit and chat. As an experienced musician, Lee's repertoire includes hundreds of songs, and his performance is largely improvised and original music.
Thanks to Jane and Lee, the program has grown tremendously; the weekly event has grown from 5-10 attendees to 50+ residents. Lee has also welcomed and encouraged resident musicians to perform and share their talents. Lee says that the response has been humbling and so much more than he expected, and credits Jane with much of the success. His program has become a resident favorite, and Jane says that even residents who haven't participated in other programs flock to the weekly event. Residents speak with great enthusiasm and gratitude about the work Lee has done. His music continues to greatly touch those at Hunters Woods.

By: Kristen Fitzgerald, Program Manager