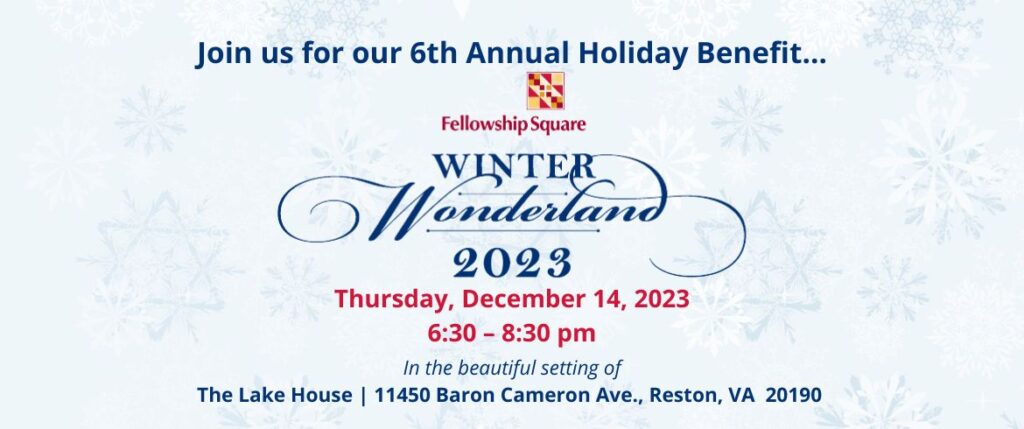 "Buy in advance and get 2 for 1 savings!"
Proceeds help support our mission to improve the lives of 800+ older adults with very limited income and resources by providing affordable housing
and supportive services.
Experience a festive holiday fundraiser complete with savory wines & craft beers, scrumptious hors d'oeuvres, exciting raffle prizes, live entertainment and the camaraderie of friends!
You can Make a Difference in YOUR community!
Thank You to our Sponsors!
Diamond
Gold
Silver
Thank You for Joining Us for a…
Take a look at photos from the event. Watch our video on resident life.
Thank You to our Sponsors!
Let's continue working together in making a meaningful
impact in YOUR community…
Our residents look forward to your help!
---
2023 Annual Meeting and Donor Volunteer Appreciation Reception
Saturday, May 20, 2023
Thank you to our Sponsors!
Questions? Please contact Judy Singer, Senior Director.
---
Winter Wonderland on December 16, 2022

Our 2022 Winter Wonderland holiday benefit was a great success! Over 100 guests attended, and we raised almost $50,000 this year! Special thanks to our 20 sponsors for supporting this event and making this year the best yet. Guests enjoyed delectable desserts, great holiday jazz music, raffles and over 20 silent auction items to bid from. There were many local vendors who donated items to our silent auction and a few residents from the houses donated "one-of-a-kind" knitted scarves and sweaters that were a huge hit!
---
---