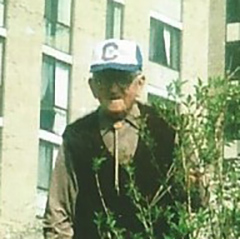 Dr. John Scherzer, founder of Lake Anne Fellowship House
Dr. Scherzer was the founder and first President of Fellowship Square. He and his wife were also residents at Lake Anne Fellowship House.
Judy Koucky, who worked with Dr. Scherzer, serving as a corporate member, volunteer, and secretary of the Board of Directors, said recently "… he would always focus upon the specific needs of the community he lived in." She remembers him having a knack for community engagement, who always employed the help of others in solving societal issues.
The following text and photographs provided by Steve McAvoy.
"It was around 1988 that the photos of Dr. Scherzer were taken in the Spring and early Summer, showing plantings in the front and back of Lake Anne Fellowship House. Dr. and Mrs. Scherzer planted some nice pansies in the early Spring as the cherry and dogwood trees were in bloom. Some donated American Holly trees were installed on the front hill with Dr. Scherzer's guidance. We also put in two hollies in the back area where Dr. Scherzer is shown later in short-sleeve shirt as he put annuals in for the new season. I started the hollies from cuttings from a beautiful tree near my home."
Remembrance of Dr. Scherzer at Lake Anne Fellowship House
Steve McAvoy, who worked painting Lake Anne I and continued doing landscaping and gardening there, remembers Dr. Scherzer this way.
"My brother Jim and I met Dr. Scherzer in 1975, as he interviewed us for some painting work that he was interested in for Lake Anne I. Lake Anne II was still under construction. We felt so comfortable as we spoke with him in his office, and I remember how cool his whole manner was. His laughter and wonderful German accent helped make every encounter with him uplifting to me.
After a few years, I continued doing the painting at Lake Anne Fellowship House (LAFH) when my brother moved away. It wasn't until the late 80's that I interacted more with Dr. Scherzer as we did some outdoor plantings. I was pleased that I was able to volunteer for this. One of my clearest memories was when Dr. Scherzer was doing an early Spring pruning of the rose plants growing in the patio area. He said that this kind of work was "one of the most rewarding things there is." I recall him telling me as we spoke that "you missed your calling." I guess he felt I might have been well suited for landscaping work.
One year, Dr. Scherzer asked me if I would consider planting flowers for the whole property. That Fall, I remember him saying to me as he was among many of our residents in the lobby area, that "this was the best flower display every for LAFH." That was so "rewarding" for me.
During the last few years of his life at LAFH I can so clearly remember several occasions when I was working on the 9th floor. Mrs. Scherzer would leave their apartment as she prepared to go to the office downstairs for the days' work. Dr. Scherzer would always wait at their apartment door until Mrs. Scherzer was about to enter the elevator and they would wave to each other.
Through the years, when I saw Dr. Scherzer in his three-piece suit as he was going about his business at Lake Anne Fellowship House, I would think of what an amazing presence he had about himself. He gave the impression of a very powerful man, yet he was so giving to people and would always take the time to listen and absorb what was said. He loved people so much.
It wasn't until his book was published that I learned of the amazing life he had led. A person who had done so much for so many years would still take the time to speak with you and make you feel like You Were Important."